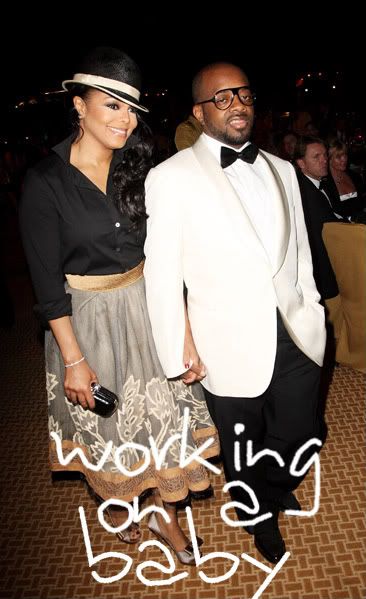 According to The National Enquirer (be quiet, it is a newspaper) Janet Jackson is taking time off from her disastrous, lackluster ticket sales Rock Witchu Tour to start a family with boyfriend Jermaine Dupri.
A source tells the Enquirer: "She's over her health problems, and he feels since the tour was less than a smash hit, it would be the perfect time to start a new project - a baby."
So, will this make baby number two for Janet?
Rumor has it that Janet already has a daughter with ex-husband James DeBarge. (The marriage lasted roughly three months and ended in annulment.) The daughter, now 21 years old, is named Renee and was raised with Rebbie, Janet's older sister.
Janet has been mum on the topic. Remember she was able to keep her marriage to Renee Elizondo a secret for almost 10 years? And we won't be surprised if she and Jermaine haven't already tied the knot.
Just saying.