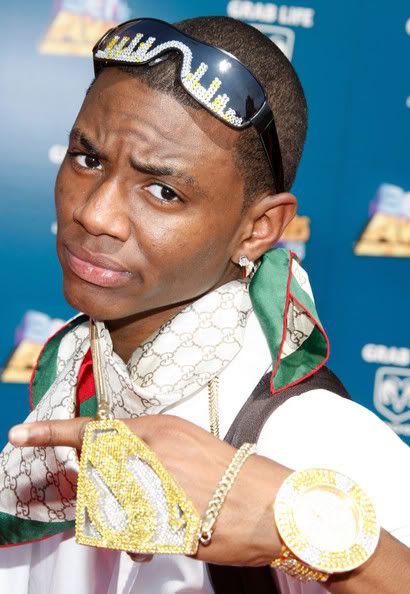 Hell hath no fury like a queen scorned. And rapper Soulja Boy, who has been dodging rumors about his sexuality for years, has pissed off a queen name HottChyna.
HottChyna (he's a boy, by the way) tells us Soulja Boy is definitely gay and he has proof in the form of photos and text messages.
The two allegedly met last April in Niagara Falls, NY after the rapper headlined the "Super Fest '08" concert. HottChyna says his friend Nika was "messing" around with Soulja Boy's former friend Q - this association granted them access backstage.
He claims Soulja Boy was resistant to having guys backstage at first, but eventually allowed him to stay. Not long after, Jabar, another friend of the rapper, gave him Soulja Boy's telephone number.
Their first conversation lasted more than 45 minutes, in which HottChyna says Soulja Boy confessed to him that he is on the DL and has dated and messed around with guys, but stopped soon after he got signed to a record deal.
"I asked him if he was a top or a bottom and he told me he was a top and that's how I knew [he was gay]," HottChyna says. "He told me he hasn't fully been serious with guys ever since he got signed. He told me before he got famous he used to mess around [with guys], but he stopped it once he got signed."
Although their conversations were going well (they never met aside from that one time in Niagara Falls) and the relationship was heating up (he says Soulja Boy sent him X-rated photos and bought him a dog), when he asked the rapper to come out of the closet last November, that spelled the end of their "relationship."
"He was like, 'I'm about to hang up on you," HottChyna says. "I [asked] why and he won't explain. [He just said] that's bogus as hell of me to ask him to come out. Ever since then he haven't been returning my phone calls or text messages."
So, he gave the rapper an ultimatum: contact him or his secret will be exposed.
"Because I haven't received any text messages. [All] I know is shade being thrown towards me so, I said, 'You know what' -- and I told him that in the text message -- 'Either you return my calls or text messages or you gonna be exposed.'"
Which brings us to where we are today: HottChyna has exposed Soulja Boy's alleged secret in a video he posted online. (You can watch it below.)
He assumes the rapper will deny, deny, deny, "but [it's] my proof against his."
But why is he doing this?
"I don't really have a motive. I didn't do it for a purpose. I just did it without thinking."
Watch the video of HottChyna airing Soulja Boy's dirty laundry and providing details he says confirms their alleged "relationship" after the jump.