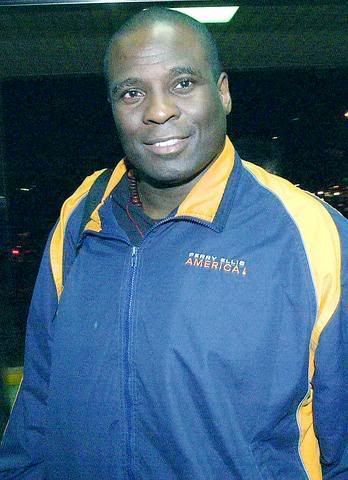 Taiwan's president allegedly appears in a sex tape with a DJ named Charles Mack, originally from Memphis, Tenn., who, until recently, lived and worked in Taiwan, first as a dancer, then as a radio DJ, and most recently as the operator of a dance company called "The Chocolate Factory".
Hmmm.... We're not saying all dancers are gay, but Mack has the trifecta: DJ, dancer, AND dance instructor. He even has a fake wife ... more on her later!
President Ma Ying-jeou denied that such a video exists, reported the
Taipei Times
in a Feb. 27 article.
Ma denied the allegations on local TV saying: "It's incredible that media outlets allow themselves to be hoodwinked by such a ridiculous story. It's a groundless rumor, and there's nothing to it."
President Ma won last year's election, calling for an end to Taiwan's long-standing strife with China.
But the rumor has a high-ranking pedigree, reported the article, having come from a claim by Ma's predecessor, Chen Shui-bian, who reportedly said in court that a plan to create a sex scandal during last year's presidential elections was derailed by Wu Wen-chung, a Special Investigation Panel Prosecutor who intervened and stopped the sex tape from becoming public knowledge.
According to Chen, the sex tape was in the possession of Chang Wei-chin, who is married to Mack. Chang reportedly is friends with Chen, and had intended to make the sex tape public so as to ensure Chen's presidential victory before Wu allegedly stepped in.



The report said that Ma claimed to have heard the rumor during the election and dismissed it then, as well.

"Such a rumor would lower the tone of the presidential campaign," Ma says. "I feel very sorry that it has been brought up again one year after the election."

Chen is in prison due to charges of corruption and the claims of this sex tape during that trial.

Earlier this month, Mack was ordered to leave Taiwan because of claims that he had unprotected sex with two other men while infected with syphilis. Which is a crime in that country.

Mack's wife told officials last Jan. 16 that he had had sex with two men although he knew that he was carrying syphilis.

Mack refuted that accusation, presenting police three days later with a document saying that he had received treatment for the disease and been cured. He even appeared on a local TV show to discuss the scandal and when asked about his wife he reportedly told the interviewer: "Please don't mention my wife, I don't want to hear her name anymore." He didn't deny he was gay, either.

Foreign Affairs Department head for the Taipei police Tony Tsao, said, "By law, we needed to deport him."

He was given seven days to leave the country.



Wow!



We are gagging.

So, see, Obama is not the only president with a gay sex scandal, after all.


Via