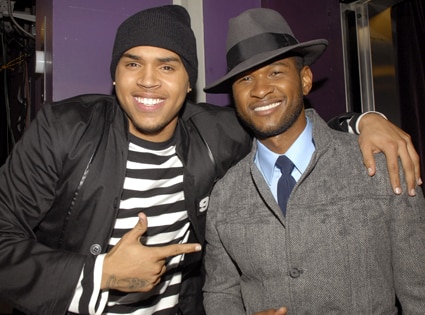 Remember last week Usher appeared in a video on Jermaine Dupri's Youtube channel (which was quickly yanked) asking for Chris Brown to show remorse for
beating Rihanna's face into a pulp
?
At that time Usher said: "I'm a little disappointed in this photo (of Chris gallivanting on a jet ski). After the other
photo
? C'mon, Chris. Have a little bit of remorse, man. The man's on jet skis? Like, just relaxing in Miami?"
Soon afterward Usher apologized: "The comments made during a recent recording session amongst friends were taken out of context and blown out of proportion. I apologize on behalf of myself and my friends if anyone was offended. The intentions were not to pass judgment and we meant no harm. I respect and wish the best for all parties involved."
Now, we know why.
According to a spy who told the Gatecrasher, Chris personally told Usher and his people to apologize now or there will be a problem.
So, fearing a Rihanna-like beat down, Usher agreed.
The source says:
"Usher was basically forced to issue a retraction. After all of his comments came out, Usher got a call from Chris, who said 'I'm going to see you bitches' — meaning 'I will eventually see you out, and this is going to be a problem.' Chris got tough with everyone present in that video. He wanted silence from all parties involved."
His regrets were even personally extended to Chris. Says the insider: "To Chris, he was like 'My bad. We were just clowning around and it went a little too far.'"
We're not sure if Chris intended to exact a beat down, but Lord knows both
Usher
and
Jermaine Dupri
have skeletons in their closets.
Via