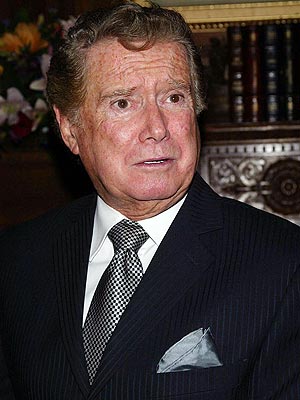 The whole story of Regis Philbin's son Danny and his estranged wife, Judy, is getting stranger and stranger.
According to the
Enquirer
, Danny who is wheel-chair bound, sought a restraining order against his wife whom he claims tried to extort monies from his famous father.
In the explosive court papers, Danny stated: "I learned by her admission that she (Judy) had a plan to blackmail and extort money from my father."
Danny, 43, claims Judy is addicted to methamphetamine, and threatened he'd be "beaten up" or "killed" if he didn't give her money for her habit.
As reported in a bombshell story last week
, Judy claimed Danny tried to kill himself with an overdose of prescription painkillers which was confirmed by police. While Judy admitted Danny got a restraining order against her, she blasted his charges she planned to extort and blackmail his father as "outright lies."
"I certainly never threatened Danny with being 'beaten up' or 'killed' if he did not get money from Regis for drugs," she said. "He lied to get the restraining order and get me out of the house."
But Danny's legal declaration seeking the restraining order - filed with the Superior Court in Riverside, Calif., on Jan. 30 - alleges a different story about Judy's behavior.
"She outright threatened me with physical violence" if he did not "meet her demand for payment of money to buy her drugs," Danny said in the court papers. He also claimed Judy spent a whopping $974 a month on a "complex cocktail of psychotropic drugs."
In his statement, Danny said he weighed just 85 pounds and lived in constant fear of Judy, adding: "She had told me she had harmed other boyfriends and had put 'one man in a headlock and held him that way for hours.'"
Danny also claimed two months earlier police removed Judy from their home "with a gun in her possession."
Via