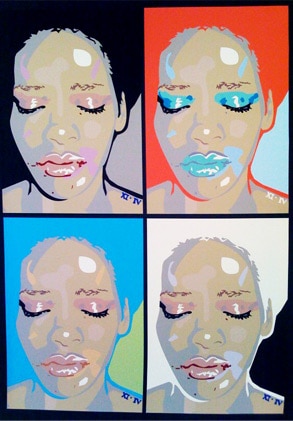 California state No. 1 evidence in its case against Chris Brown is now a piece of art.
The portrait was created by L.A.-based pop artist Sham Ibrahim's. He says his intent was not to draw awareness to any cause, he merely saw beauty in photo of Rihanna's
battered and bruised face
.
"I thought the bruises in the police photo were interesting shapes to draw," he says. "And it was cool to color them pink and blue. Those are two of my favorite colors....There is no message to any of my art," he says. "It's meant to look cool hanging on your wall and that's it! I'm not into deep meanings."
The 24-inch by 36-inch piece was made by transferring custom colorized blow-ups of digital tracings of the police pic onto canvas.
It's currently on display at World of Wonder Storefront Gallery in Hollywood.
source