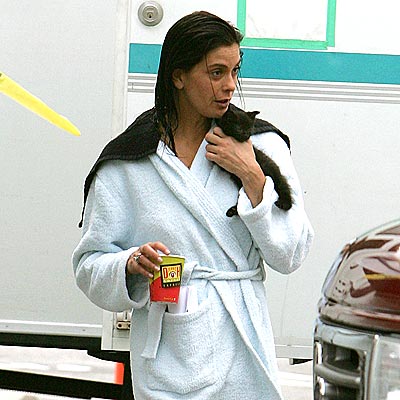 "Desperate Housewives" may have fizzled this season, but the drama behind the scenes is made for TV, or at least a Youtube video.
According to sources, the show's star, Teri Hatcher, is an impolite bitch and no one can stand her.
"She can be so rude and ill-mannered - snatching things out of crew members' and assistants' hands without saying please or thank you," a source told
The Enquirer
. "Unless you are someone of importance on the show, Teri often won't give you the time of day" - and that includes fans!
The source recalls recently Teri asked the wardrobe department to remove all of her costumes (clothing, shoes, accessories) from her trailer. She then proceeded picked through the vast lot of items to find the ones she didn't like then, when she was done, told the staffers to discard them.
"It's truly bizarre - everyone has to cater to her like she is a queen. Teri doesn't eat with all the cast and crew. It is as if she thinks she is above them. A runner drives to upscale restaurants such as Katsuya or Aroma Cafe so she can eat in her trailer and drink her many bottles of expensive cabernet that she has stored. The woman doesn't even go to the hair and makeup trailer - they come to wherever she is!"