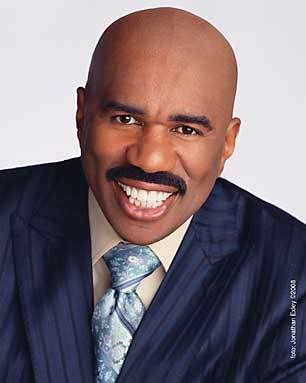 Supposedly Steve Harvey is at war with Katt Williams for calling him out on the Jamie Foxx radio show.
Yawn!!!
This supposed feud has been circulating around the internets and we're here to set this ridiculousness to bed; We all know scandals sell, and since the two will be performing at a big New Year's Eve show in Detroit, which is also
possibly-on-coke-and-taken-to-the-psych-ward-under-police-escort Katt Williams
' supposed retirement from comedy, the two hope this will send you to the box office to buy tickets.
The show is called "2008 Championship of Comedy Featuring Steve Harvey & Katt Williams" people. So, this sort of antics is a mere ploy to drum up ticket sales. By the way: did you know tickets, to the still not sold-out show, costs up to $250 per seat! (Yes, that's US dollars!)
The feud goes something like this:
Katt Williams said:
"I wanna apologize for what's gonna happen. But the second that you get on stage, I need you to understand that that's your final time as the 'King of Comedy.' Water seeks its own level, you can't stop it playboy. It is what it is, so I hope you're ready. I hope you got a team of writers. You gonna need about six or seven of 'em…."
Steve Harvey, who was
recently accused by his ex-wife of beating their son
, then called in
as planned
and said this:
"I've always been cool with Katt. He said in an interview that back in LA, I didn't know who he was. I mean understand, I didn't know who he was when I was on the radio in LA. He hadn't been in any movies or anything, and the brother was just not that known. He was talking about me in the clubs, and I just asked on the radio, whoever Katt Williams is, to call me. He called me, we straightened it out. We became friends. We've been cool ever since, so I thought."
He said. He said. Take it to the stage.
We are so over this.
Just in case you care and want to hear the complete Sirius XM FoxxHole radio show, go
here
. [Note: it's laced with profanity and derogatory terms, so if you're easily offended, you want to stick with the words on the screen.]
Update
: See video of the "show" after the jump.