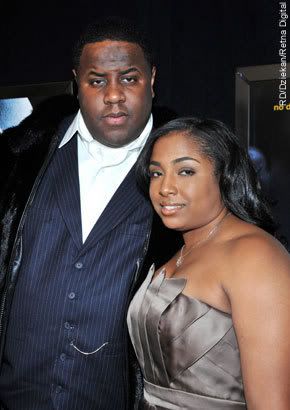 As usual kids, things are popping on the
Experience
and Wendy got the exclusive scoop.
Yesterday we neglected to post a clip from a woman whose name is Chaprelle. She called in to say Trina, the wife of rapper Gravy, who has
accused him of assault
, is famous for filing these frivolous charges against her partners only to then drop them. [part 1]
We didn't post it because we knew there was more to the story. And honey, were we right.
Today a woman named Capri called in to throw grease on Chaprelle. She said she is friend of Trina and boy, oh boy did she throw some grease!!!!!!!!!!!!! [ part 2]
Then later, Wendy called Chaprelle who threw the most grease of them all. She says that Capri was, in fact, Trina (she recognized the voice) and that Trina, among a whole lot of other things is was still sleeping with her ex husband (Jevon), while she was with Gravy. [part 3]
We Loves the DRAMA!
One of these chicks is 30 years old and has seven children, with another on the day. The other has had eight aborts. You gotta listen to find out who.
Ready? Go!
Part 1 [Chaprelle calls to say Trina is a liar]
Part 2 ["Capri"/Trina calls to air Chaprelle's dirty laundry and say she's a liar]
and
Part 3 [Chaprelle refutes Trina's statements and airs ALL of Trina's dirty laundry and then some.]
Note: Jevon Harrell, 26, and his brother Michael Stann, 31, were shot on a Bed-Stuy street corner Aug. 16, 2006. Jevon, who had recently got out of prison and was on "supervised release" was declared dead at the scene; Michael was pronounced dead at a hospital.