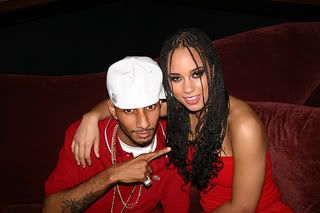 Mashonda has come out with guns blazing, publicly blaming singer Alicia Keys for the demise of her marriage to record producer Swizz Beatz.
Since the story broke last year, both Alicia and Swizz have vehemently denied something happened between them.
So, Mashonda said she knows Alicia had an affair with Swizz. She found proof, in the form of credit card statements, that show that Swizz was traveling with Alicia while she was on tour.
That's a true statement, but that wasn't the first [sign that something was going on] ... It's not like I wake up, and I have to snoop," she said. "It's if you recognize — and this is for anybody, a man, woman, whatever — if you recognize like a dramatic change, and you're asking 'What's the problem?' and you're not getting an answer, you're just gonna have to [find out for yourself].
She says she has forgiven Swizz. No word on whether she's forgiven Alicia as well.