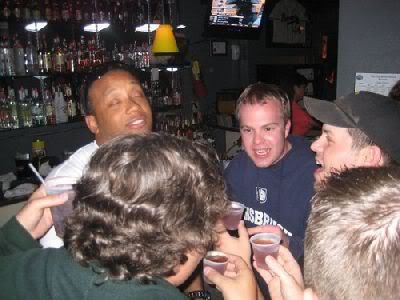 Last we reported the bizarre story of the arrest of former Atlanta Falcons running back Jamal Anderson. He was
arrested for snorting coke in a bathroom stall with another man
.
But alas, how could we not put two and two together. According to a patron at Peachtree Tavern (in Atlanta!) that night, who told Deadspin, Jamal was giving a professional (that's a blow job, for you new Wendyistas) to a dude in the bathroom stall and that little fact was intentionally kept out of the police report.
The patron said:
His behavior wasn't uncommon. Not the cocaine but the being on his knees in a stall. Dude is obessed with the size of white frat boys in the greater Atlanta area. This kid was a part of his 'crew' that he hangs with....He is known to be a really creepy guy and tries to pick up random frat-type guys at bars. Supposedly the undercover cop caught him blowing this kid and found coke on him. So he just did him a favor by keeping that out of the police report. There are definitely people who witnessed this happen.
We are gagging! (Oops, wrong analogy...;-)
From the look on his face in this photo, he appears to be reaching a climax - perhaps from a frat boy giving him a professional.
How you doin', Jamal?
Allllrrrriiiiggght
.