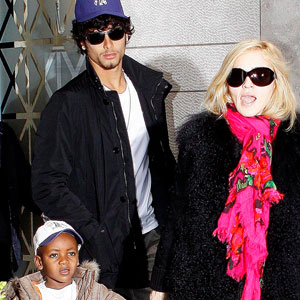 Like a mother and child, Madonna is reprimanding her jumpoff Jesus Luz for talking on his cell phone in her presence. Perhaps Madonna is a bit jealous because of all the women he left in Brazil who
still wants him
, or perhaps she's as
pathetic as Wendy said recently
.
A few days ago Madonna walked into a room where he was speaking on the phone.
"And she just turned on him," a source told the Daily Mail. "She told him it was rude for him to take a phone call in front of her."
But Luz stood his ground and told Madonna she was being unreasonable.
"He stood up for himself and they had quite a heated argument. Madonna agreed to let him answer the mobile when she's around, but only in emergencies."
However, Madonna freely chats up on her phone.
"If her phone rings and she wants to take the call, she'll do it," the source said. "This is not a relationship of equals."
Madonna's controlling nature is also thought to have caused Luz to fall out with his family.
"His family claims they always know when he's with her because they can't get him on the phone. And it's true. He'll see his phone ringing and he just has to let it go."
source