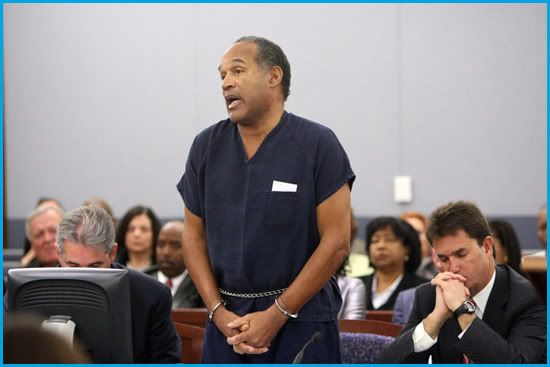 Oprah Winfrey is sitting on a secret. In a phone call to the talk show queen's producers, OJ Simpson confessed to savage and brutal stab death of his ex-wife Nicole Brown Simpson to death and her friend Ron Goldman back on June 12, 1994. He claims the stab-ations were in self-defense. According to the
National Enquirer
exclusive, OJ -- who was convicted of armed robbery and kidnapping in 2008 and is
serving 8 to 33 years in a Nevada prison
-- claims that after Nicole snubbed him in front of their kids at their school then later at a restaurant, he went to her home to let her know that she hurt his feelings.
"OJ told the producer, 'She was yelling go away, go away! And waving the knife around at me. At one point, she was lunging at me with the knife, and I was just trying to talk to her. I mean talk some real sense to her. Nicole stepped out of the apartment -- slashing the knife in the air. I had to back up to keep from being slashed by the blade. I was in such a rage that something just snapped. I couldn't take her constant taunting of me with other men or her using drugs and drinking while my kids were living with her. I went berserk! Before I knew what I was doing, I took the knife away from Nicole and started slashing at her. I cut her over and over again until she was lifeless. I was shocked at my own anger -- I had killed the woman I have loved for so long. As I was thinking about the horror of what I had done, I heard the heavy footsteps of someone running up the dark walkway. I panicked and hid in the bushes by Nicole's front door. I still had the bloody knife in my hand so I was shaking." Waiter Ron Goldman was approaching to return sunglasses Nicole's mother had left at the restaurant -- and spotted Nicole's bloody body near the door, according to OJ. Goldman lunged at him, Simpson told the producer. And OJ responded swiftly. "I stabbed him over and over again. He was very strong and nearly overpowered me. He was trying to kill me. Finally, he slumped to the ground -- dead. Killing Nicole and Goldman were acts of self-defense. I was only trying to talk to Nicole and she wouldn't listen. She tried to stab me and it sent me over the edge. I was still in a rage when Goldman showed up and that became the fight of my life." After the murders, OJ confessed he returned to the mansion in a zombie-like state. He said he couldn't give any more information about the murders until the deal with Oprah was final. He's keeping the information about where he hid his bloody clothes and how he fooled the cops.



Source: National Enquirer, July 4 print edition
Sounds enthralling, but we're buying that story. While we do believe OJ Simpson is a violent, woman-beater, as
Nicole expressed in this letter
, we're not sure if we buy this supposed "confession" to Oprah. But hey, tell us when it's airing on OWN and we're so there.
Update
: Oprah says OJ
did not
confess to her.