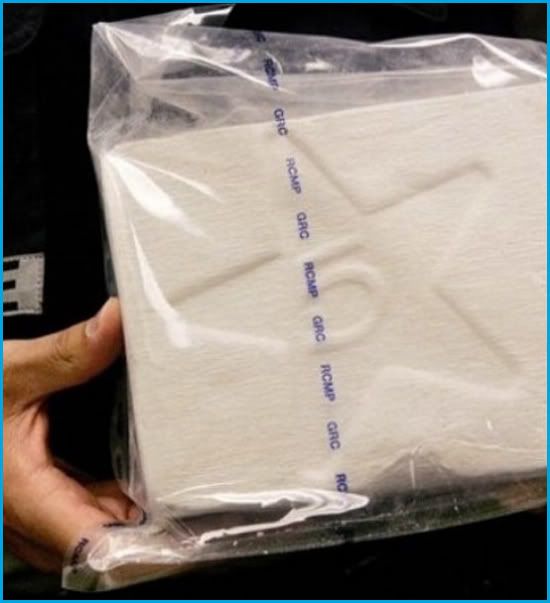 Last Wednesday, 53-year-old Thomas Swindal and his brother Kenneth were fishing in about 200 feet of water off the Florida Keys when they spotted a wrapped brick of something floating near the boat.
The brothers snagged it, decided it was probably cocaine, and tossed it into the boat's live bait well. Kenneth Swindal told deputies they talked about what to do with their find, but went back to fishing without making a decision. Apparently, Thomas Swindal made his own call, in retrospect a bad one. His brother said he looked back and saw Thomas open the brick and eat some of what was inside. That's when things got weird. Kenneth said within a half hour, Thomas went nuts. He started tearing around the small boat, tossing things like a cellphone and a radio into the drink. Then, he attacked the engine with pliers and a knife, prying the cover off and letting it fall into the water. Grabbing a gaff, a big pole for snagging fish, he stabbed the engine with it, causing so much damage it wouldn't start. Kenneth Swindal was left with a crazy man on the boat, no way to get to shore, and no way to call for help. He told Monroe detective Mark Maison he tossed every sharp object off the boat, and then climbed up top to yell for help. A nearby boater heard his hail, and called the Florida Fish and Wildlife Conservation commission, which rescued the two brothers from the boat and got Thomas Swindal to paramedics.
source: CBS4
Suffice it to say, Thomas didn't make it. Since a panicked Kenneth tossed the brick of cocaine back into the water, the medical examiner is conducting an autopsy to determine what exactly killed Thomas.
UPDATE, Aug 2
: In related news: 15,000 pounds of cocaine, worth more than $180 million, seized from a drug submarine off the Caribbean coast of Honduras was offloaded in Miami Tuesday morning. The fiberglass craft, known as a self-propelled semi-submersible sank during the interdiction but an FBI dive team recovered the drugs on board after the Coast Guard found the sunken vessel last week.
UPDATE, Aug 3
: A man jogging on a beach in Galveston, Texas found a burlap bag containing 25 bricks cocaine worth about $2 million.