Rumors surrounding R&B heartthrob Trey Songz' sexual orientation have been swirling around the Internets for some time. Last year, it was reported that Trey -- who's allegedly versatile -- dated fellow R&B singer Brandon Hines. Now, word in the
skreets
is Trey has upgraded -- big time. He's fallen into the arms of Will Smith. Allegedly.
Tongues are wagging that Will is enjoying a "bromance" with R&B artist Trey Songz, who's been the subject of gay whispers himself. On Aug. 18, the "Men on Black" star sat at a VIP table with Trey during an event at The Setai's penthouse in Miami's trendy South Beach -- and the two reportedly hooked up again the following evening to enjoy dinner and the local nightlife. For years, Internet bloggers have claimed that Trey had numerous gay relationships with men in the music industry. The 26-year-old Grammy-nominated artist, best known for his album "Ready", had repeatedly denied that he is gay, insisting on an interview: "I love the ladies." Troy Taylor, a record company exec and mentor to the singer told The

Enquirer

: "I know that Trey and Will have been friends for a very long time, but I can't speak to the nature of their relationship. It's none of my business." ....[A friend of Will adds:] Will stood by Trey's side and watched helplessly as his good friend has been the target of false gay rumors. Now that the shoe is on the other foot, Will has turned to Trey for advice on how to deal with it. Trey told Will to just be true to who he is -- no matter what this is -- and he assured Will the rumors will ultimately pass."



Source: National Enquirer, Sept. 12, print edition
We wonder how Duane Martin feels about this. But we digress.
Those gay rumors that have followed Will
have not passed. In fact, they've gained more traction since Will's 13-year alleged "marriage of convenience" to Jada Pinkett Smith
is on the verge of collapse after he reportedly caught her boning singer Marc Anthony
. Here's an interesting piece of gossip. Troy Taylor allegedly was
pulling a Chris Stokes
and "turned out" Trey and Brandon. He was also sleeping with Trey and Brandon. Allegedly. Sidebar: Remember when he visited Wendy's radio show back in 2009 and she asked him a the hypothetical question of a Rihanna and Chris Brown were in a sinking boat, who would he rescue?
He said he'll save Chris!
HUD!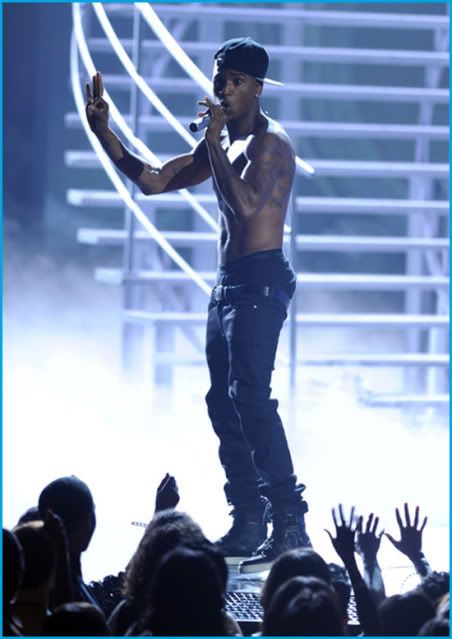 Update, Sept 7

: So, is Trey trying to tell us something with his new song, "Nightmares of the Bottom." NSFW