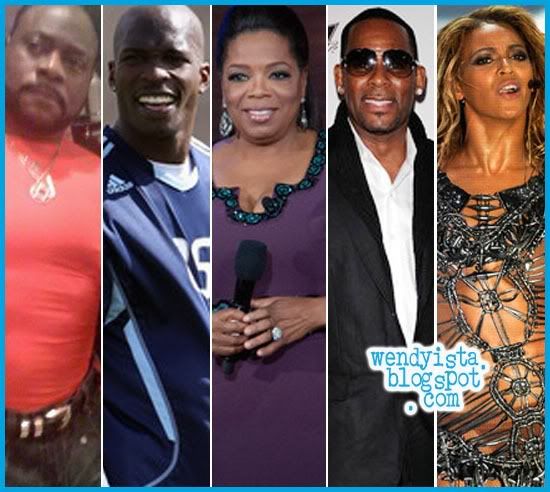 Hello, boys and girls. Have a fantastic Memorial Day weekend! We'll be back Tuesday afternoon.
While we're away, if you have a tip about a story or something we should look into, post or get a chuckle from, please direct it
here
.
Here are some of the week's lowlights (and some highlights, too).
Bishop Eddie Long paid off the four men whom he sexually assaulted (allegedly) when they were teenagers. How

he

doin!
The woman radio jock Miss Jones wrongly identified as Chad Ochocinco's baby mama filed a defamation lawsuit against everyone.
Accused paedophile/singer R Kelly might have gotten Aaliyah pregnant when she was 15 years old.
Beyoncè took to the stage at the Billboard Music Awards and and murdered it with an epic performance.
Speaking of Beyoncè, the stans have already mastered the choreography.
Details of how and when Arnold Schwarzenegger got his maid pregnant with 13-year-old Joseph were revealed.
A man demanded a "thank you" from a man he held the door open for, but the man shot him instead. (He kinda deserved it.)
Rapper Lil Boosie tried to get drugs delivered to him in prison.
Workers at a Cincinnati hospital played with the body of woman's dead premature baby, then mailed her 154 photos of the child modeling various outfits in almost two dozen different poses.
A dentist beat down an elderly woman when she demanded he return her dentures.
The Supreme Court ordered the state of California to free 34,000 prisoners.
A woman sued an airline because her unborn baby got food poisoning.
A man beat down his girlfriend for making fun of his small penis.
A man blew up an ATM after the bank told him he had no money in his account.
A man became inflated like a balloon after an air hose got stuck in his butt.
A missionary admitted to molesting at least 34 girls, but he will never go to jail.
Another week. Another hair weave theft.
Half-naked man was filmed pole dancing in the NYC subway -- while wearing stilettos.
An ex-employee stole more than $30,000 from Terrell Owens to pay his rent on a luxury Atlanta condo.
The world did not end, but it was rescheduled for October 21, 2011. Mark your calendars.